Bertie Ahern 1994 - 2008:

Bertie Ahern became leader of Fianna Fáil in 1994. Born in 1951 in Dublin, both his parents were republican activists during the War of Independence in County Cork. He entered Dáil Éireann in 1977 for Dublin Finglas and soon became known as one of the hardest working constituency workers in the country. Bertie Ahern was appointed Assistant Government Whip in 1980, and became Government Chief Whip and Minister of State in 1982. He held the position of Minister for Labour from 1987-91 where he established his reputation as a peacemaker in industrial relations and as a consensus politician. He was appointed Minister for Finance in 1991. On the resignation of Albert Reynolds, Ahern was unanimously elected leader of Fianna Fáil on 11 November 1994. 

Under Bertie Ahern the Party gained nine seats in the General Election of 1997 and returned to Government in coalition with the Progressive Democrats. Under Bertie Ahern's leadership the Celtic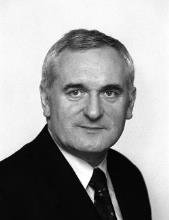 Tiger came to fruition, a rapid and sustained period of economic growth with the best growth rates in the European Union, low inflation, low interest rates, record employment and inward investment. The government fulfilled its term in a stable fashion and it was no surprise that in the General Election of 2002, Fianna Fáil were returned to power in partnership with the Progressive Democrats. 

Bertie Ahern's finest achievement was The Good Friday Agreement, negotiated in 1998 with the British government under Prime Minister Tony Blair and the leaders of the North's political parties (bar the DUP). His commitment to finding peace and stability in Northern Ireland was unrelenting, and has witnessed power-sharing become a reality in the North of Ireland as The Troubles are now thankfully becoming a distant memory. 

Under the Irish Presidency of the European Union in 2004, Bertie Ahern enjoyed a major European success when he negotiated a new European Union Constitution on behalf of the European Union. The accession of ten new member states also took place under his presidency.